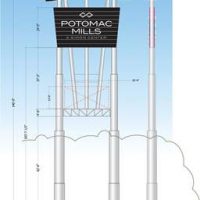 The Potomac Mills sign along I-95 is about to return.  The General Manager of Potomac Mills said in a news release that the reconstruction of the local landmark is officially underway, with completed installation anticipated later this month.
Jen Snitselaar says the newly-designed Potomac Mills sign will pay tribute to the area it calls home – featuring waves inspired by the Potomac River. The design will come to life in black and white, reflecting the updated look displayed across the main entrance and wayfinding signs throughout the property. The new sign will also feature color-changing LED lights, which will be tailored to seasonal and local events.
The new Potomac Mills sign will closely match the dimensions of the previous design – standing 140 feet tall, spanning 46 feet wide and weighing approximately 31,000 pounds.
The old sign was damaged by wind about a year ago.