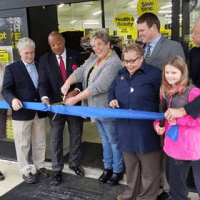 From the Caroline County Department of Economic Development:
Over fifty Dawn residents, and several members of the Caroline County Board of Supervisors braved a cold rain Saturday morning for the 8:00 AM Grand Opening of a new Dollar General on Rt. 301 just south of the Rt. 30 intersection.
The 9000 plus square foot Dollar General carries a wide variety of groceries and household items that, in the past, required citizens in Dawn to travel to Ashland or Bowling Green to acquire. The Dollar General is providing an important commercial opportunity for the largely underserved area of Dawn.
Owned by Par 5 Development Group, LLC, Dollar General leases the facility for their operations; a common practice in the industry.
Reedy Church District Supervisor Reginald  Underwood said,  "This is a wonderful commercial opportunity for our citizens. Bringing more opportunity to Dawn has been a priority. Now our citizens need to support the store, and I am sure they will."
A number of times General Manager Carrie Cousins indicated that Dollar General and Par 5 have been significantly helped by the County in site searches, Planning and Zoning, and construction review.
Dollar General is open 8:00 AM to 9:00 PM seven days a week. Hours may vary on Holidays.