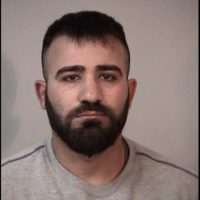 (Stafford)- From the Stafford Sheriff's Office:
A suspect was arrested on Tuesday night for identity theft following a traffic stop conducted by deputies with the Stafford County Sheriff's Office.
On January 8, 2019, at approximately 8:55 p.m., Deputy Taylor initiated a traffic stop in the area of 20 Prosperity Lane after observing a vehicle turn left on a red light.
…
The driver was identified as Firas Kismat Hanna, 26, of Stafford. He told the deputy he left his driver's license at home, but provided his social security number, name, and date of birth. Back-up units arrived and it was determined that Hanna was providing false identification. The suspect admitted to providing a family member's identification in place of his own. Deputies then learned Hanna's license had been revoked for a DUI-related offense.
Another deputy on scene recognized the suspect from a previous traffic stop conducted on December 29, 2018 in the area of Old Mineral Road and Northampton Boulevard. The suspect had failed to stop at a stop sign and received charges under the false name he provided.
The suspect was taken into custody and incarcerated at Rappahannock Regional Jail without bond. He received charges for both incidents. The charges include driving after forfeiture of license, identity theft, forging/uttering, obstruction of justice, failure to obey traffic lights, and failure to stop/yield.