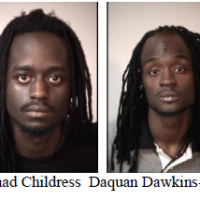 (Stafford)- The Stafford Sheriff's Office has arrested two Walmart employees for stealing money from the self-checkout machines.
The incident occurred at the Walmart at 11 Village Parkway on Route 17. Store management advised that one employee stole $220 and another stole $400 from a dysfunctional self-checkout machine that was dispensing incorrect bills.
On June 20, 2018, the first employee, 24-year old Kahmaad Childress of Fredericksburg approached the self-checkout machine and paid $5 for a bag of sunflower seeds. The machine then dispensed four $20 bills. Childress made four more transactions, receiving a total of $400 from the machine. He did not advise management of the issue.
Childress then told a second employee, 25-year old Daquan Dawkins-Horne of Stafford about the self-checkout machine. Dawkins-Horne made three separate transactions at the machine, receiving a total of $220.
Both suspects were taken into custody and incarcerated at Rappahannock Regional Jail on a $500 secured bond. They are charged with grand larceny and conspiracy to commit a felony.