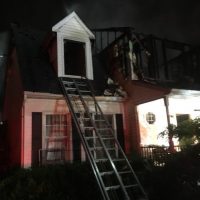 (Spotsylvania)- From Spotsylvania Fire, Rescue and Emergency Services:
On May 18 a neighbor in the area of the 11800 block of Falcon Ridge Drive called 9-1-1 to report a house on fire. The call was made at 1:15 am and when firefighters arrived five minutes later, they discovered a well involved fire on the second floor of the residence. Bystanders informed first arriving firefighters that there was someone still in the home and located on the second floor.
Firefighters quickly began a search of the residence and were able to locate an adult male occupant in his bedroom on the second floor. Within six minutes of arrival; the occupant had been located, removed and transferred to medical personnel who immediately began assessment and treatment of the patient. The patient was transported to Mary Washington with what are believed to be serious but non-life-threatening injuries. The patient was subsequently transferred to the Virginia Commonwealth University Medical Center for more definitive care. The only other occupant of the home had escaped the fire prior to emergency personnel arriving on scene. More than 30 career and volunteer members from the Spotsylvania County Department of Fire, Rescue and Emergency Management were on scene to bring the blaze under control. A total of five engines, two aerials, four medical transport units and several support staff responded.
The Spotsylvania County Department of Fire, Rescue and Emergency Management would like to remind everyone that you should "Close before you doze". Fires are burning faster and hotter due to the many synthetic materials found in homes today. Closing your bedroom door can help limit the rapid spread of fire and buy the occupants time to escape. For more information please visit the Close Your Door campaign website at www.closeyourdoor.org or contact our office at 540- 507-7900.