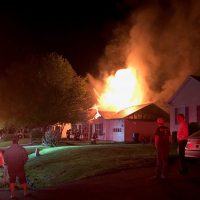 (Spotsylvania)- Spotsylvania firefighters responded to a fire just after 8:30 last night in the 10100 block of South Fulton Drive. The first fire engine arrived about five minutes after a call from a neighbor.
The fire was brought under control in a half hour. A total of three occupants, one adult and two children, lived at the home. All have been displaced as a result of the fire and assistance from the American Red Cross has been requested. In total, more than 30 career and volunteer members from the Spotsylvania County Department of Fire, Rescue and Emergency Management were on scene to bring the blaze under control.
The City of Fredericksburg also responded to assist with the fire. A total of four engines, three ladder trucks, one heavy rescue, three medical transport units, four chief officers and several support vehicles responded. The cause of the fire remains under investigation.