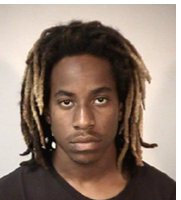 From the Stafford Sheriff's Office & Fredericksburg City Police:
A joint investigation by the Stafford County Sheriff's Office and Fredericksburg Police Department led to the arrest of a suspect on Wednesday for robbing a PNC bank in Fredericksburg and attempting to rob a Dollar General in Stafford County.
On April 12, 2016 at approximately 12:45 p.m., a bank employee called the Fredericksburg Police Department reporting that a black male entered the bank and produced a note. The teller complied and the suspect got an undisclosed amount of currency.
Then, on April 16, 2018 at approximately 6:59 p.m., the Stafford County Sheriff's Office responded to a call regarding an attempted robbery at the Dollar General on Deacon Road. A black male entered the store at 6:57 p.m. and passed a note to the cashier. The suspect asked the cashier to "hand it over", prompting her to take a step back from the counter. The suspect then abruptly left the store.
A bystander told deputies that she observed an individual matching the suspect's description riding a pink and blue girl's bicycle on Cleremont Drive heading away from the Dollar General. Deputies canvassed the area, but were unable to locate the bicycle or the suspect.
On April 18, 2018, investigators with the Stafford County Sheriff's Office located the suspect and called in units with the Fredericksburg Police Department to assist with the arrest. Shaveek Pittman, 22, of Fredericksburg was taken into custody without incident. Pittman was wanted out of Fredericksburg on other unrelated warrants.
During a search warrant conducted at the suspect's residence, evidence was uncovered linking the suspect to the robberies, including the bicycle observed by witnesses following the attempted robbery at Dollar General.
The suspect was incarcerated at Rappahannock Regional Jail without bond. He is charged with robbery (Fredericksburg) and attempted robbery (Stafford) and served on outstanding warrants.