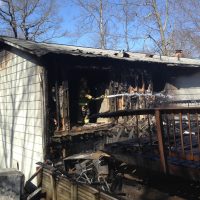 (Spotsylvania)- From Spotsylvania Fire, Rescue and Emergency Management:
On Friday, March 9 at just after 9:30 am, a neighbor contacted the Spotsylvania County Emergency Communications Center to report that a home was on fire in the 11800 block of Taft Drive. Fire and emergency medical crews were immediately dispatched to the call and arrived five minutes later.
The first fire engine arrived to find the rear deck and exterior wall of a single-story residence heavily involved in fire. The fire was quickly spreading to other portions of the home. Within minutes, firefighters began putting water on the fire, bringing it under control in less than 15 minutes.
Six occupants were home at the time and were alerted to the fire by neighbors. The occupants managed to escape, without injury, prior to the fire department's arrival. All have been displaced as a result of the fire and assistance from the American Red Cross has been requested.
In total, 25 members from the Spotsylvania County Department of Fire, Rescue and Emergency Management were on scene to bring the blaze under control. The City of Fredericksburg Fire Department also assisted with the response. A total of three engines, two ladder trucks, one rescue squad, two ambulances and two chief officers responded. The Fire Marshal's Office also responded and is still on scene investigating the cause and origin of the fire.