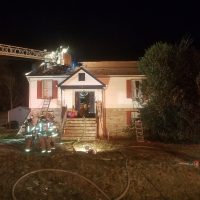 (Spotsylvania)- From Spotsylvania Fire, Rescue and Emergency Management:
On Sunday, January 7, 2018 at just before 6:00 pm, a citizen contacted the Spotsylvania County Emergency Communications Center to report that their neighbor's house was on fire. Fire and emergency medical crews were immediately dispatched to the 5300 block of Briarbend Court.
The first fire engine arrived just two minutes later to find a two-story residence with fire from the roof. Within minutes, firefighters began putting water on the fire, bringing it under control in 20 minutes.
Six occupants were home at the time of the fire and managed to escape, without injury, prior to the fire department's arrival. All have been displaced as a result of the fire and assistance from the American Red Cross has been requested.
In total, more than 30 career and volunteer members from the Spotsylvania County Department of Fire, Rescue and Emergency Management were on scene to bring the blaze under control. The City of Fredericksburg also responded to the fire. A total of three engines, two ladder trucks, one heavy rescue, three medical transport units, three chief officers and several support vehicles responded. The Fire Marshal's Office also responded to the scene to investigate the cause and origin of the fire which appears to be related to a failure of the flue pipe in the home's chimney.
The department would like to take this opportunity to remind residents to have fireplaces, woodstoves and chimneys inspected and cleaned at least once a year by a reputable professional. Creosote, a flammable byproduct of burning wood, can build up in chimney flues increasing the risk of fires and damage to the flue pipe.