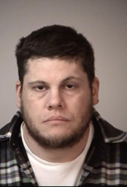 (Stafford)- A Stafford man has been arrested in connection with a string of burglaries targeting prescription medication at residential homes in the southern end of the county.
On December 13th detectives learned that a man had been arrested and later released on burglary charges in Fairfax County. A list of items recovered from the suspect's vehicle included a prescription pill bottle belonging to a Stafford resident.
Stafford detectives reached out to the resident and discovered that she knew the medicine was missing, but was unaware of the burglary. She said she assumed the prescription had been discarded by a family member.
39-year old Gregory Crowley admitted to breaking into the residence and stealing the prescription medication. Crowley also told detectives he was behind the home burglaries that occurred in the southern end of the county between Thanksgiving and early December.
Crowley is in the Rappahannock Regional Jail facing 10 burglary charges, six charges of grand larceny and one charge of attempted grand larceny.