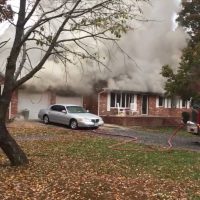 (Spotsylvania)-From Spotsylvania Fire and Rescue:
At 4:43 pm on Saturday, November 4th, the Spotsylvania County Emergency Communications Center was alerted to a fire in the 6500 block of Jefferson David Highway. The call was made by an occupant of the home who stated they were awakened by smoke detectors and had discovered smoke in the residence. When the first unit arrived just two minutes later, they found smoke and flames coming from the roof of the home.
As firefighters quickly assessed the scene it was determined that all occupants had exited the home. Firefighters initiated an attack of the fire and were able to bring it under control in approximately 40 minutes. One occupant of the home was assessed for minor injuries by medical personnel on scene but refused any treatment or transport to a hospital for further evaluation. No fire department injuries have been reported. As a result of the fire, the two occupants have been displaced and are being assisted by the American Red Cross.
In total, 31 career and volunteer personnel from the Spotsylvania County Department of Fire, Rescue and Emergency Management responded to the call bringing 3 engines, 2 ladder trucks, 1 rescue, 2 medical transport units and several command staff to the scene. The Fire Marshal's Office was called to the scene and to investigate the cause and origin of the fire which is still undetermined.
Early notification of fires by properly installed and operating smoke detectors has been proven to save lives and property. The Department would like to take the opportunity to remind citizens to check their smoke detectors monthly, change the batteries twice a year and replace detectors that are more than 10 years old. If you have any questions about smoke detectors please contact the Department at (540) 507-7900.