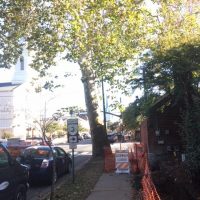 (Fredericksburg)-The City Public Works Department has determined that a large sycamore tree at the corner of Princess Anne and Amelia Streets needs to be removed. The tree's root system was recently found to be impacting the foundation of an adjacent building located near the corner and also undermining a brick wall along the property. The public sidewalk has also been impacted in that area, causing a potential risk to pedestrians. Although the tree is in healthy condition, City arborists have concluded that the removal of the root system will reduce the structural integrity of the tree to an unacceptable level, and it has therefore been decided that removing the tree is the best course of action for safety and liability reasons. The tree is being scheduled for removal in mid-November.
Staff is planning to preserve some of the wood from the tree to have it repurposed into furniture and other woodcraft mementos as a way to commemorate the many years this tree has served the City by providing shade, beauty and cleaner air and water.
The City has a vibrant Urban Forestry program that includes the planting of approximately 500 – 600 trees each year. City trees range in age from 2 years to over 100. Unfortunately, in a City setting, trees often have a limited lifespan due to such things as restricted growth space for roots, physical damage by vehicles and machinery, and increased fall-zone risks to nearby targets such as homes, businesses, churches, pedestrians and traffic.
Comments and concerns, or ideas regarding what to do with the preserved wood can be expressed by calling the Public Works Department at 372-1023.