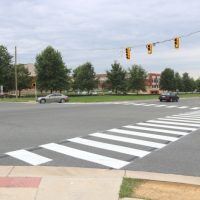 (Stafford)- VDOT activated a new traffic signal this morning at the intersection of Route 630 (Courthouse Road) and Liberty Knolls Drive, which is at one of the entrances to Colonial Forge High School in Stafford County.
Crews were able to install and activate the traffic signal almost two weeks before school starts to allow motorists, teachers, students and staff to adjust to the new signal and lowered speed limit of 35 mph in the work zone.
New pavement markings and pedestrian crosswalks were also installed at the intersection.
The new traffic signal is part of a $185.3 million project to widen Courthouse Road from two to four lanes from Ramoth Church Road to Cedar Lane and reconfigure the I-95 Exit 140 interchange to a diverging diamond.
Last week, VDOT reduced the speed limit from 40 mph to 35 mph in the work zone for the safety of crew members and the traveling public.
The temporary speed limit will be enforced during construction, which is expected to be complete by July 2020.