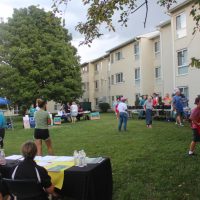 (Fredericksburg)- St. George's Episcopal Church in downtown Fredericksburg took The Table to Fall Hill Avenue on Friday night to Heritage Hill apartments.   Deacon Carey Chirico with St. George's says they wanted to share their fresh foods with city residents who cannot always get to Princess Anne
Street and their market style pantry on Tuesday. 
Some of the others who participated:  Dr. Yum provided healthy cooking tips.  Legal Aid Works, Lafayette Upper Elementary School and Mental Health America of Fredericksburg.  Kids had were also given their choice of a wide selection of books.
Chirico says she's already thinking about the next Table outreach.