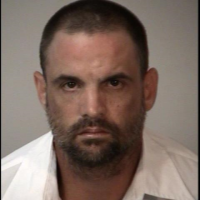 (Fredericksburg)- Fredericksburg Police arrested a Spotsylvania man on charges of stabbing a motorist in a road rage incident in the city last week.
36-year old Colin Burkett faces a felony charge of malicious bodily wounding related to the stabbing of a 28-year-old man July 18. Burkett is being held without bond at the Rappahannock Regional Jail.
The victim reported he got into an argument with the moped driver while waiting to turn left from Route 3 onto Huntington Hills Lane, across from the Westwood Shopping Center.
The man said that after the moped rider followed him onto Huntington Hills Lane, he stopped and approached the bike. He told police the man pulled a knife and stabbed him, then left.
The victim was treated at Mary Washington Hospital for what police described as a non-life-threatening injury.