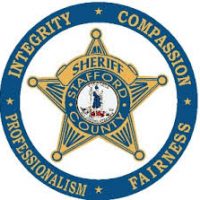 (Stafford)-   A Stafford man has been charged in a Thursday morning accident that injured a deputy and another person.   57 year old George Murdock  is charged with Reckless Driving and Failure to Yield to an Emergency Vehicle. 
 
Thursday morning Deputy R. T. Kulbeth was responding to an emergency call with his blue lights and siren activated.  Kulbeth was driving a marked Stafford Sheriff's Office Ford Taurus. He was travelling south on Rt. 1 near Stafford Hospital when a Ford Van driven by Murdock made a u-turn directly in front of Kulbeth' s cruiser.  The two vehicles collided sending Kulbeth's cruiser into a power pole and overturning.  The power pole broke in half causing the power lines to drop across Rt. 1.  Murdock's van spun around and turned onto its side.  The impact caused the front axle and passenger side tire of Murdock's van to dislodge from the vehicle, go airborne and crash through the windshield of a third vehicle. 
 
The drivers of all three vehicles were transported to local hospitals where they were treated and released.  A passenger in the third vehicle was uninjured.