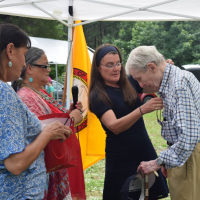 (Warsaw)- The Chesapeake Conservancy joined members of the Rappahannock Tribe, the National Park Service Chesapeake Bay Office, retired U.S. Senator John Warner and his daughter to celebrate the donation of land to the Rappahannock Tribe on Saturday.
Working with the Chesapeake Conservancy, Ms. Warner donated to the tribe nearly an acre of land on Carters Wharf Road in Warsaw, which is located near a public boat landing at Fones Cliffs along the Rappahannock River. The tribe will use the land as a staging area for their Return to the River program, an effort to engage tribal youth in the traditions of their ancestors that were practiced there for thousands of years and in traditional water-related activities, such as canoeing, fishing, and camping. The Chesapeake Conservancy also donated a canoe to the tribe for this program.
The event included a ceremonial blessing from Rappahannock Tribe Chief G. Anne Richardson, singing and drumming by tribal members, and a formal presentation of the land transfer along with Senator Warner and Ms. Warner.
Research conducted by St. Mary's College of Maryland shows that the Tribe was forcibly moved to various locations during the 17th century, with members finally settling in and around Essex and King and Queen Counties. The Rappahannock Tribal Center is now located at Indian Neck in King and Queen County.
Fones Cliffs, a four-mile stretch of white colored diatomaceous cliffs rising over 100 feet above the Rappahannock River, is currently under threat of development to become a luxury resort and golf course. The cliffs provide important habitat for one of the largest concentration of bald eagles on the East Coast.
Fones Cliffs has a rich cultural history. According to the journals of Captain John Smith, Fones Cliffs was the home of three Native American towns and bore witness to an encounter between the Rappahannock tribe and the Englishmen aboard Captain Smith's shallop. This area is a highlight to those exploring history along the Captain John Smith Chesapeake National Historic Trail and to paddlers traversing the Rappahannock.