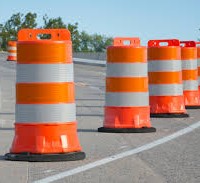 (Spotsylvania)= From VDOT:
VDOT will inspect the Route 3 (Plank Road) interstate overpass Thursday night in Fredericksburg, and will close the on-ramp to Interstate 95 northbound from Route 3 eastbound to give crews space to properly inspect the structure.
The on-ramp will be closed from 9 p.m. to midnight on Thursday, March 23.
I-95 northbound will be reduced to two lanes at the Route 3 overpass for the inspection work zone.   All other ramps at the Exit 130 interchange will remain open during the inspection.
Detour Route
Eastbound Route 3 motorists seeking to enter I-95 northbound will be directed to U-turn onto westbound Route 3 at Gateway Boulevard. Once on westbound Route 3, motorists can access the I-95 northbound on-ramp from the westbound lanes.
Virginia State Police will assist with traffic control near the work zone.
Motorists can find real-time information on lane closures, work zones, traffic and other incidents on 511Virginia.