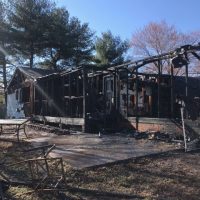 (Spotsylvania)- –Shortly after 1:15 pm Thursday, a fire was discovered in a house located at 3911 Blake Drive. Fire units were dispatched to the above address and upon arrival found heavy fire coming from the structure. There was approximately 50% of the home involved with fire. Crews went to work immediately to battle the blaze. It took crews only twenty minutes to mark the situation under control.
A neighbor discovered the fire and called the Spotsylvania Emergency Communications 9-1-1 Center to report it. None of the four occupants were home at the time of the fire. No civilian or firefighter injuries were reported. The home was a total loss. No assistance was requested from the American Red Cross or other agencies.
Thirteen fire and rescue units, including four engines and three trucks, with 29 firefighters from the Spotsylvania County Department of Fire, Rescue and Emergency Management were on scene to extinguish the fire. The Spotsylvania County Fire Marshals are investigating to determine the cause.