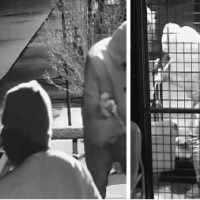 (Fredericksburg)- Fredericksburg Police investigating a burglary/breaking and entering at SSG Tactical in the Westwood Office Park early Tuesday.
Surveillance video shows two men pulling up in front of the store at 5:40am in a U-Haul. They were wearing hooded jackets. The men went to the front door with two large storage bins. They used a tool to shatter the glass on the front door and then attempted to break the lock on a cage door. About 90 seconds later, the two men got back into the U-Haul van and drove away in the direction of Plank Road.
The store owner says nothing was found missing.
If you have any information–contact City Police at 540-373-3122.