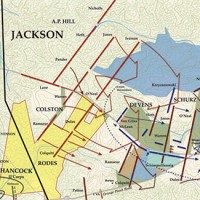 (Spotsylvania)-The Civil War Trust today declared victory on a 355-acre property associated with the 1863 Battle of Chancellorsville and the 1864 Battle of the Wilderness. Overall The Trust has saved 1,100 acres on the two battlefields.
The land was purchased for $1.75 million. Funding was provided by matching grants from the National Park Service's American Battlefield Protection Program and the Virginia Department of Historic Resources, foundation grants, a contribution from the Central Virginia Battlefield Trust, and major gifts from several Trust donors. The remaining funds, totaling $350,000, were raised from Trust members during a fundraising campaign announced in April.
Yellow on the map is land saved with this purchase.