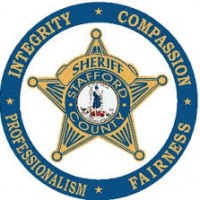 (Stafford)- From the Stafford Sheriff's Office:
The Stafford County Sheriff's Office is investigating an incident where a young adult female was sexually assaulted after her vehicle was struck by another in the area of Kings Highway and Sherwood Forest Farm Road. The apparent accident occurred sometime around 2:45 AM to 3:15 AM while both vehicles were traveling eastbound. After the accident, the unknown male suspect forcibly removed the victim from her vehicle and dragged her into a ditch off the roadway where he sexually assaulted her over a two hour period.
Once the suspect left the area, the victim walked back to her vehicle and called 911 from her cell phone. Just as she was doing that, a Stafford County Deputy arrived at the scene.
The suspect is described as a Hispanic male approximately 30 years old, 5'8" to 5'9", weighing approximately 170 to 180 lbs. He has black hair and a short black beard. He was wearing light colored blue jeans and a sleeveless white tank top under an orange, blue and white plaid long sleeved shirt. He spoke Spanish and broken English. The suspect vehicle was described as a dark colored SUV. The suspect left the scene in his vehicle and traveled eastbound on Kings Highway (Route 3). There may be orange paint transfer and damage to the passenger side front quarter panel and/or front end of the suspect's vehicle.
While the investigation is ongoing limited details will be available. The Stafford County Sheriff's Office is seeking the public's assistance in identifying the suspect in this sexual assault. If the public saw anything suspicious between the hours of 2:30 a.m. and 5:00 a.m. along State Route 3, Kings Highway between Forest Lane Road and Michael Scott Lane, (the entrance road to the water treatment plant) please contact the Stafford County Sheriff's Office immediately.
If you have any information regarding the suspect in this case, please contact the Stafford County Sheriff's Office at (540) 658-4400. Anonymous tipsters can receive up to $1,000.00 in cash reward. Text "Stafford" + tip to (Crimes) 274637, or online at www.StaffordCrimeSolvers.com