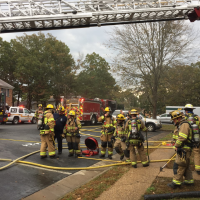 (Spotsylvania)- Good reminder to always stay alert when cooking.  A family of five was displaced from their home in the 400 block of Olde Greenwich Circle on Thursday afternoon when a fire erupted. Around 3:30 pm, an occupant discovered a fire in the kitchen and called the Spotsylvania Emergency Communications 9-1-1 Center. All of the occupants had evacuated safely prior to the arrival of the Fire Department.
It took just six minutes for the first of 22 firefighters from the Spotsylvania County Department of Fire, Rescue and Emergency Management to arrive. The fire was under control in approximately seven minutes after arrival. Crews used four engines, one truck, two medical transport units, and two chief officers to extinguish the fire.
The Spotsylvania Fire Marshal's Office investigated the incident and found the cause to be from unattended cooking.
The Spotsylvania County Department of Fire, Rescue, and Emergency Management would like to remind everyone to be safe when cooking. Always remain in the kitchen when food is on the stove. And please check your smoke alarms regularly. You can contact the Department at 540507-7900 if you need smoke alarms, batteries, or if you have questions