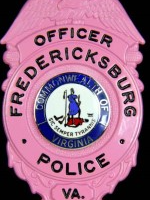 (Fredericksburg)- In an effort to raise breast cancer awareness and to support cancer research, education, and breast cancer prevention, the Fredericksburg Police Department is going "code pink" for the month of October.
City Police have converted a Crown Victoria patrol vehicle to help raise awareness during Breast Cancer Awareness Month.  This vehicle is to serve as a symbol of hope to not only those who are battling breast cancer but to those family members and friends that are fighting alongside them. Sponsors donated funds/services for the conversion of the vehicle and the cost to return it to its original condition. 
"The men and women of the Fredericksburg Police Department care deeply about the community they serve.  Going "code pink" in October is another way to show we care," said Police Chief David Nye.
Thirty officers will wear pink badges during the month.  Ten percent of the proceeds from each badge purchased will be equally donated and distributed to the Firefighter Cancer Support Network, Pink Heals, and the Gloria Gemma Breast Cancer Resource Foundation.  Sponsors shared the cost of the badges with our employees. 
"It's all about humanizing the badge. We all have families and we all have struggles outside of work," said Officer Paul Dooley who came up with the idea.
Communications Officers Purchase Pink Shirts to Show Support
Six communications officers purchased pink polo shirts and will wear them during the month of October to show their support for breast cancer awareness.
"We help save lives every day but there is only so much we can do.  We ask that you go get checked; early detection is key," said Communications Supervisor Samantha Peterson.