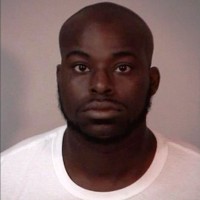 (Stafford)- From the Stafford Sheriff's Office:
On September 29the the Sheriff's Office Emergency Communication Center received a 9-1-1 call at approximately 8:50am from employees at the BB&T bank located at 760 Warrenton Road. The caller stated a witness reported an incident that occurred near the ATM.  A woman had advised a bank employee that while she was in the parking lot an older white male had indicated that he was being robbed.  The witness had observed the older male departing the parking lot in a car being driven by a younger black male and had provided the vehicle's license plate. 
The vehicle registration returned to an address on Cynthia's Place.  Units were quickly dispatched to the address and the vehicle was parked outside.
Deputies knocked at the door and an older man answered.  He was quite disheveled in appearance and seemed exceedingly nervous and upset.    He stepped out of his apartment and advised that he was being robbed by the two individuals that were now inside.  He was escorted to safety and was subsequently treated for injuries sustained over the last several days which included broken bones and lacerations.  Deputies and detectives re-entered the residents and found the two subjects inside.  All parties were thoroughly interviewed.  During the conversation with the victim, he indicated that the couple had been at his apartment since Sunday, September 25.  Throughout that time the couple had forced the victim to withdraw money at the ATM and make a wide-variety of sizeable purchases using his credit card.  
The Sheriff's Office arrested the couple and charged them both with Extortion by Threat and Abduction to Extort Money.  Arrested: 28-year old Jamhal Blanks and 18 year old Brianna Archie of Woodbridge. Both are in the Rappahannock Regional Jail.
.