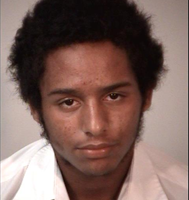 (Stafford)- From the Stafford Sheriff's Office
On September 23, 2016 at approximately 9:00pm, Stafford County Deputies C.N. Mireles and K-9 Officer A.S. Smith arrived at Barrows Court attempting to locate Isaac Moore. Moore was wanted on for Failure to Appear and several additional charges. K-9 Officer Smith accompanied Deputy Mireles on this call because Moore had been known to flee from law enforcement.
As deputies arrived at the location, Deputy Mireles approached the front door. Meanwhile, K-9 Officer Smith waited at the back of the townhome with his K-9 Partner Lobo. Deputy Mireles was invited into the residence and was advised that Moore was upstairs. When approaching the landing, the 18-year-old Moore saw law enforcement and ran into his bedroom. He then turned off the lights, locked and barricaded the door.
Deputy Mireles kicked the door in and observed the suspect crouching outside on a windowsill. Moore jumped from the third-story bedroom window located at the front of the home. Mireles hastily descended the both sets of stairs but when arriving outside there was no trace of the suspect.
While the house was being "cleared" a perimeter was established. While a search of the exterior was being conducted Deputy Mireles began to re-inspect the inside of the townhome. Returning upstairs he heard a soft banging coming from the third floor. The deputy followed the noise and observed brown insulation under an attic "hatch" in one of the bedrooms. He could hear quiet scraping and movement in the ceiling directly above where he was standing. Deputy Mireles announced several times that the suspect should surrender himself. Instead the man chose to "worm" himself further into the insulation in the attic.
K-9 Officer Smith and his K-9 partner Lobo responded upstairs. The suspect was advised that if he did not surrender the K-9 would be deployed. Moore then agreed to come down but advised that he could not get back to the attic hatch. As he began walking his foot fell through the ceiling. He then pushed his other foot through the ceiling, dropped to the floor and was taken into custody.
Deputies later realized that Moore had reentered the home through a ground floor window and swiftly made his way back to the third floor attic access while deputies were searching for him outside the premises.
Isaac Brickley Moore, age 18, was originally charged with Assault and Battery, Receiving Stolen Goods, Possession of Marijuana, Failure to Appear, as well as the most recent charge of Obstructing Justice. He was incarcerated at the Rappahannock Regional Jail with no bond.