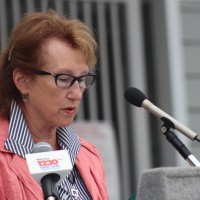 (Fredericksburg)- Poor health prevented Doris Buffett from being in Fredericksburg this afternoon as City officials renamed the Dixon Park Pool in her honor.
Buffett's donations have provided free admission to city residents since the pool opened in 2006. Mayor Mary Katherine Greenlaw read the proclamation passed over the summer by City Council. She called Doris Buffett one of Fredericksburg's "finest engaged citizens."
A big thank-you card will also be delivered to Doris Buffett in Boston later this week.