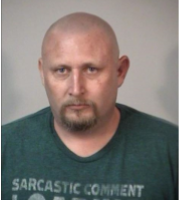 (Stafford)- Stafford, VA. On August 13 at approximately 10:47pm Sheriff's Deputies responded to Tarleton Way for a pedestrian struck by a vehicle. The victim had serious injuries to her legs and head and was lying on the ground behind a nearby Dodge Ram Truck. Emergency medical aid was rendered and she was transported to a nearby hospital.
The suspect in the case, Aaron D. Atteberry was arrested by Deputy C.L. McCormick. McCormick had to obtain a search warrant to obtain a blood sample, due to the suspect's refusal to cooperate with the DUI testing.
Atteberry, age 39, of Tarleton Way, was arrested Saturday, August 13 for Driving While Intoxicated, Maiming as a Result of Driving While Intoxicated, Concealed Weapon Carry While Intoxicated, Resisting Arrest, Assault and Battery of a Police Officer and Obstructing Justice. The following day an additional charge of Aggravated Malicious Wounding was filed by Detective E.L. McCullough, III. Atteberry's bond hearing was today. He was denied bond and returned to the Rappahannock Regional Jail.
The victim is in stable condition at a local hospital and the Sheriff's Office investigation continues.