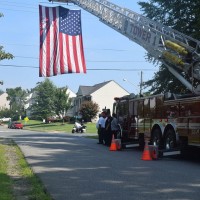 (Spotsylvania)- From the Spotsylvania Volunteer Fire Dept.
Today we had the honor of displaying our Nations flag from Tower 1 to welcome Army Sgt Zachary Herrick and his family to his new home in Spotsylvania County. Zach was chosen by Suntrust bank to receive this home through their Wounded Warrior program. Along with Suntrust's donation of the home many local businesses and organizations donated furnishings for the home.
Zach was born in Kansas City and is now located in Rockville, MD until receiving his new home in Spotsylvania today. He was active duty Army until he was medically retired in June of 2016.
Zach was injured when shot in the face while serving in Afghanistan.
WELCOME HOME SGT. ZACH HERRICK!!