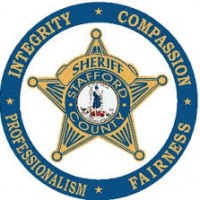 (Stafford)- From the Stafford Sheriff's Office:
From the Stafford Sheriff's Office:
On August 1, 2016 at approximately 2:00 am, the Stafford County Sheriff's Office received a call from a citizen who reported a car crash on Cool Springs Road near Kings Highway. The caller advised the vehicle had been traveling southbound at a high rate of speed, jumped the median and crossed into the northbound lanes, coming to a stop on the side of the road. Deputies were subsequently dispatched to the accident.
When deputies arrived at the accident scene, no driver or occupants were present. Soon thereafter, a man was observed standing on the northbound side of Cool Springs Road a short distance away. As deputies approached they noticed he was holding a handgun. The subject fired at the deputies who then returned fire. The suspect, a sixty-five year old white male was shot. He was transported to Mary Washington Hospital where he was pronounced dead. Sheriff's Office deputies were not injured in the incident.
The investigation is in the early stages and is ongoing. Additional information will be released at a later date.