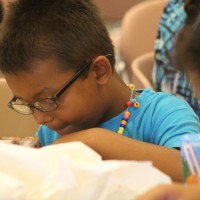 (Spotsylvania)- The Fredericksburg Regional Food Bank wants you to help spread the word about the Kids on the Go summer feeding program. Tasty meals are available Tuesday thru Thursday at various locations for kids up to 18. The meal is free!
The food bank's LaToya Brown tells us it's been a slow at some of the sites. (especially Chancellor Middle). However the past two days about 200 people have come to the Salem Church Library site.
Go to fredfood.org for the locations. Click programs.