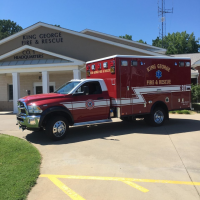 (King George)- King George Fire and Rescue has a "new" ambulance.
The box was manufactured in 2008. It was removed from its original chassis, refurbished and installed on a new Dodge over the past several months.
Fire and Rescue Chief David Moody tells us says while it was refurbished there were many upgrades: An entire replacement of the ALS cabinet which now allows for climate control for all ALS equipment and supplies.
New cabinets installed below the ALS cabinet house the Lucas II, BLS bag and Airway bag. Prior to the upgrades it was difficult to contain all of the bags safely and there was no uniformity.
The cot mounts were replaced, hardware for the cabinetry was replaced, the light bars were removed with new LED lighting installed.
Fire and Rescue officials say they expect the vehicle to remain in service without any major repair work for around 180k miles or 8 years which is the current life span for ambulances in the KG fleet.
Chief Moody says this type of replacement saved about $50k over buying new. There's a second one on order that should be shipped off to the factory in late July or early August.