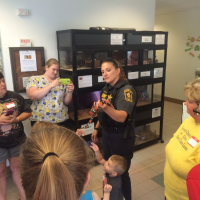 (Spotsylvania)- The Spotsylvania County Sheriff's Office, Animal Shelter and the Second Chance Dog Rescue Organization hosted the first "Reading Buddies" event at the Spotsylvania County Animal Shelter this week. The event was the first in a series of Reading Buddies events to be held at the Animal Shelter during the summer months.
Sheriff's Office Animal Control Shelter Assistants and Officers, along with Second Chance members participated in projects, reading to the animals and even playing instruments for the homeless pets. Sheriff Roger Harris says "the event gives the children an opportunity to interact with the pets and offers socialization experiences for the pets, as well.
Young children and teenagers are invited to participate, The event times are every Wednesday, from noon until 2. For additional information on this program, interested persons can contact the Second Chance Dog Rescue at email: lmr735@aol.com .