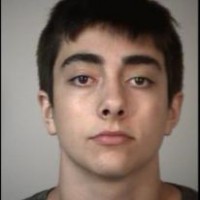 (Stafford)- The Stafford Sheriff's Office says a homeowner on Park Cove Drive in the Park Ridge subdivision noticed pry marks on his door and believed they were a result of someone attempting to break into his home. He decided to stay at home the following day and make sure his property was secure.
Yesterday at about 12:20 p.m. the homeowner was watching television in his living room when he heard glass breaking at his rear basement door. He ran to the door and observed a young white male run through his back yard and over a fence. He immediately called 911 and Stafford Deputies responded. The homeowner was able to provide a description to dispatchers who relayed the information to units in route. Several neighbors also provided directions of travel on the suspect. Within thirty minutes, the suspect was apprehended in a field on Parkway Blvd.
18 year old Richard Snyder, Jr was arrested and charged with two counts of Possession of Burglary Tools, Destruction of Property and Entering Property of Another to Damage. He was taken to the Rappahannock Regional Jail and incarcerated with no bond.