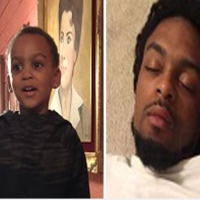 (Spotsylvania)- An Amber Alert has been issued for a 3-year-old boy police say was abducted in Spotsylvania.
At about 7 p.m. Wednesday, Zion Clinton Amir William was taken by 28-year-old Joshua Christoper Williams.
Police say the child is believed to be in extreme danger and was last seen in the 420 block of Cleveland Court in Spotsylvania.
Zion is described as a 3-foot-5 black male who weighs 35 pounds with brown eyes and brown hair. He was last seen wearing a blue and white "Cars" diaper.
Joshua Williams is described as a 5-foot-11 black male weighing about 160 pounds with brown eyes and black hair. He was last seen wearing a navy blue and gray sweatshirt and blue jeans.
Police said they may be driving in a 2015 tan Nissan Altima with a Virginia tag of VHN4346. The car was later found abandoned, and authorities say the child and suspect are still missing.
Authorities say Joshua Williams assaulted the mother before taking the child.
Anyone who has information regarding their whereabouts is asked to call the Spotsylvania County Sheriffs office at 540-582-5822 or Virginia State Police at 1-800-822-4453.