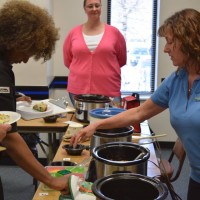 (Spotsylvania)- Info2Go- Communications Officer Crockpot Cook-off took place this afternoon at the Rappahannock Regional Criminal Justice Academy. Dispatchers work long hours and frequently rely on crockpots for their families and sometimes fellow workers.
Participating today were Communications Officers from the City,UMW, Spotsylvania and King George. Best Dish and Most Creative were the awards.
Winners were Takera Green with UMW for her apple dump cake. It was Best Dish. Lisa McMahon with the city won Most Creative with her white pizza.
Judges: Joy Crump with FoodE, Mike Harvey with the Regional Justice Academy and Ted Schubel.