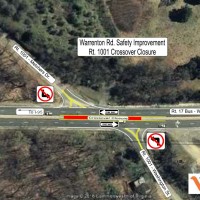 (Stafford)- VDOT will close a Route 17 Business crossover in Stafford County at the intersection with Melchers Drive and Washington Street to reduce crashes and prevent additional injuries.
Closing the crossover means left turns will no longer be possible from Washington Street onto Route 17 Business northbound, or from Melchers Drive onto Route 17 Business southbound.
Right turns into and from Washington Street and Melchers Drive will continue to be permitted at the intersection.
The decision to close the crossover was made after a review found 53 crashes occurred at the intersection over a 4-year period between 2012 and 2015. Most of the crashes were angle crashes, and 30 people were injured.
"Changing the traffic pattern at this location should significantly reduce the crash risk for motorists exiting at these streets, as well as for motorists traveling on Route 17," said Kyle Bates, Assistant Fredericksburg Residency Administrator. "We recognize this will require residents to adjust their daily travel pattern, and we apologize for any disruption this may cause. However, the safety benefits of closing the crossover were clear."
The crossover is scheduled to close by June 1. A raised concrete median will be installed across the current opening.
Message boards will be stationed on area roads leading to the intersection approximately one week before the closure date.
One-way signs will be posted on Melchers Drive and Washington Drive for motorists approaching the Route 17 Business intersection, indicating only right turns are permitted for traffic exiting these streets.
Traffic is expected to divert to Route 1 northbound or Route 212 (Chatham Heights Road) and Route 218 (Butler Road). Additional lane capacity that opened at the Falmouth intersection in September 2015 can accommodate the increased number of vehicles.
During peak morning and afternoon travel periods, only 1-2 vehicles per minute turns left from Washington Street onto northbound Route 17 Business, on average. Lower traffic volumes are present on Melchers Drive. Traffic projections show these vehicles can be accommodated on surrounding primary roads and the Falmouth intersection.
"We waited to study traffic conditions until after the opening of the expanded Falmouth intersection last September," Bates said. "We wanted to be confident that surrounding roads could handle the additional number of vehicles if we closed the crossover."
Motorists are reminded that a 25 mph speed limit is posted on several residential streets in the Falmouth area, including Ingleside Drive, Lendall Lane, Melchers Drive and Washington Street.