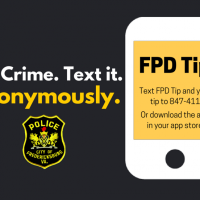 (Fredericksburg)-The Fredericksburg Police Department has launched FPD Tip, a free smart phone app that allows citizens to send anonymous tips directly to the police department. The FPD Tip app is available for iPhone and Android smart phones and puts a powerful new crime-fighting tool into the hands of the community. To download the free app, search "FPD Tip" in the Google Play Store or iTunes App Store.
"The public is our greatest law enforcement resource," said Police Chief David Nye. "Our new FPD Tip app will help our residents play a more active role in keeping the City of Fredericksburg safe."
In addition to the app, there are two other ways citizens can make anonymous tips. Cell phone users can send anonymous tips via text to "847-411" by texting "FPD tip" and their message to the number. Tips can also be made anonymously online on the Fredericksburg Police Department website.
All three methods – the phone app, text option, and the online form – are sent directly to the Fredericksburg Police Department's Communications Center. When a person makes a tip, they will receive a message confirming the tip was received. Photos can also be submitted along with a tip.
It's important to remember FPD Tip is NOT a substitute for calling 911. In an emergency situation, always call 911. FPD Tip is for incidents that occur in the City of Fredericksburg (zip code 22401.)