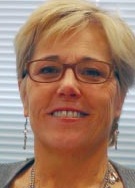 (Fredericksburg)- Jane Shelhorse is leaving Louisa County Parks, Recreation and Tourism department after eight years as director to become the new parks and rec director in Fredericksburg. She worked in the city the first 20 years of her career.
During her time in Louisa, the county has seen steady growth in recreation programs for youth and adults. The aquatic facility at the Betty J. Queen Intergenerational Center opened in 2008. Shelhorse has also coordinated several re-enactments of the Battle of Trevilian Station in the Green Springs area.
Shelhorse said she is most proud of how the county came together after the 2011 earthquake. The quake forced the closure of Louisa County High School, so its staff and students began the school year at the middle school. Shelhorse arranged activities for middle school students at the intergenerational center three days a week for five months, until school officials completed construction of temporary modulars to house the high school. She'll begin in Fredericksburg on Monday.