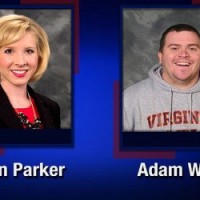 From ABC News…
A shooting on live television has left a reporter and a cameraman dead, according to their news station.
Alison Parker, 24, and Adam Ward, 27, were killed in the field during a live news segment this morning in Moneta, Virginia, according to their station, WDBJ-TV, a CBS affiliate serving the Roanoke-Lynchburg television market.
A third person was injured in the shooting, sources familiar with the situation said.
The incident was reported at 6:45 a.m. and the Franklin County sheriff confirmed that it is considered an active-shooter situation, adding that the suspect, who is believed to be male, is not in custody at this time. Franklin County school officials said three schools are on lockdown in the area of the shooting and that police officers are offering additional security.
Neighboring Bedford County Public Schools said, "We have placed all schools on perimeter lockdown status following a shooting in Franklin County this morning. This is a precautionary measure suggested by law enforcement."
The shooting itself took place at Bridgewater Plaza, a recreational facility with shops, restaurants, a mini golf course and boat rentals.
Click here for rest of the story…