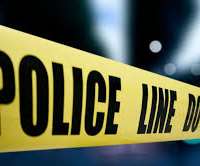 (Fredericksburg)- Fredericksburg Police say One suspect is in custody following the murder of two men at the Greenbrier Shopping Center early yesterday. The suspect is a 15-year-old resident of Spotsylvania He is currently being held at the Rappahannock Juvenile Detention Center under detention orders charging him with two counts of first degree murder. The homicides occurred at approximately 2:10 a.m. outside of Cook Out Restaurant on Route 3. The victims were part of a group of adults who had attended a party at Jay's Lounge prior to heading over to Cook Out for a meal.
The suspect was one of a group of teenagers who had attended a graduation party before ending up at Cook Out. The two groups, who shared no prior acquaintance before their encounter in the parking lot, became involved in a verbal argument which quickly escalated into physical assault. During the assault, three of the adult males received stab wounds variously to the chest, back, and torso. None of the victims were armed. Two of the victims later died at Mary Washington Hospital.
The investigation is ongoing as detectives continue to gather details about each individual's involvement in the fight. Anyone with information about this case is urged to contact City Police.