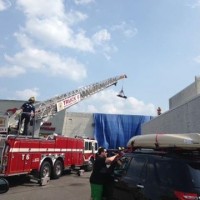 (Spotsylvania) Spotsylvania Fire and Rescue says a person on Thursday was working on a rooftop at the Spotsylvania Towne Center. They experienced a medical condition and were not able to get off the roof. At 3:15 pm, co-workers called 9-1-1 to assist.
Units arrived to find the victim stranded on the roof. Medical care was initiated by providers while specialized rescue equipment was assembled and put in place to remove them from the rooftop. After approximately 30 minutes, the patient was safely removed from the roof utilizing a "stokes basket operation" and was then transported to an area hospital for further evaluation and treatment.
A total of nine career personnel from the Spotsylvania County Department of Fire, Rescue and Emergency Management responded on a medical transport unit, a Truck Company and a rescue vehicle, as well as a chief officer. No updates on the patient are available.