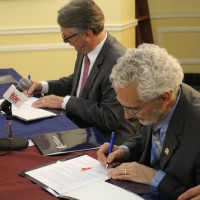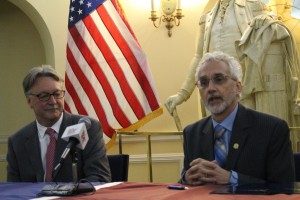 UMW President Rick Hurley and Germanna Community College President David Sam this morning signed a direct transfer agreement for Business Administration students. Germanna students who graduate with degrees in Business Administration, General Studies or Liberal Arts with at least a 3.0 grade point average on all college work and have completed the specific business course prerequisites with a 2.5 GPA are guaranteed admission to the Business Administration Program at UMW.
Germanna students who don't meet all of the terms of the agreement may be competitive applicants and are encouraged to apply through the regular transfer admissions process.
GCC students who enroll in UMW's bachelor of science in Business Administration program will be considered on the same basis as its own junior year students for admission to competitive programs, as well as for registration, financial aid, scholarships and student housing.