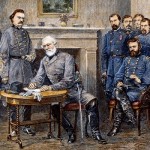 FREDERICKSBURG – Bells could be heard for 4 minutes this afternoon in downtown Fredericksburg and in many communities around the country to mark the 150th anniversary of the surrender at Appomattox in the Civil War.
National Park Service Historians John Hennessy and Frank O'Reilly talk about Fredericksburg and the war.

Fredericksburg residents gather downtown to listen and honor those who fought in the war.