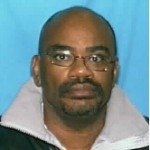 FREDERICKSBURG –  From the Fredericksburg Police Department…On March 26 around 9 a.m., 51-year-old Jerry Stewart left his home in the Mayfield neighborhood of Fredericksburg with the intention of taking the Fred Bus to Planet Fitness in the Eagle Village Shopping Center. This trip was an almost daily routine for Mr. Stewart. On the 26th, Jerry never made it to Planet Fitness and it is unknown if he boarded the bus. His family has not seen or heard from him since.
Mr. Stewart is a black male approximately 5'6" and 145 pounds. He wears glasses and he was last seen wearing a gray sweat suit. It is unknown if he has his cell phone with him.
Mr. Stewart has a number of medical conditions that make his disappearance of particular concern. He has high blood pressure, and he is also diagnosed as bi-polar and schizophrenic. Mr. Stewart does not have any of his medications with him. If anyone has any information about his whereabouts, please call the Fredericksburg Police Department at 540-373-3122.