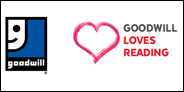 It's March Reading Madness Month at NewsTalk1230 WFVA, and we're Buzzin' about Books!!
We've teamed up with Rappahannock Goodwill where every Fridaythey will give away a book to each child that comes into any of their stores in the area.  It's completely free – no purchase necessary – no strings.  The child picks out any book and it's free!
Here is a list of books recommended by the NewsTalk1230 WFVA staff and families for kids/pre-teens/adults:
Chuck Archer & Family (Operation Manager)
"Wonder" by R.J. Palacio (great book for pre-teens)
Any of the Cam Jansen books by David A. Adler and Susana Natti (for elementary/pre-teens)
"The Book Thief" by Markus Zusak
"Room" by Emma Donoghue
"Gone Girl" by Gillian Flynn
"Game of Thrones: A Song of Fire and Ice" by George R.R. Martin
"Ready Player One" by Ernest Cline
Diary Of A Wimpy Kid Series of books by Jeff Kinney
"The Art Of Fielding" by Chad Harbach
Bill Carroll (Production Director)
Magic Tree House Series by Mary Pope Osborne
READING TIPS:
A child is never too old to be read aloud to.
Encourage children to take turns reading aloud to you or to each other. Don't worry about correcting every mistake, just sit back and enjoy the story.
Add some fun to chore time! One person could read aloud, while the other does the dishes.
Create a special time and place in your home for reading aloud.
Talk about the books you read together. Ask your child how the book made them feel or what their favorite part was.
A librarian is always ready to recommend books! Never hesitate to ask for suggestions.
It's all right to read the same book over and over, children love to hear books repeated, and beginning readers can soon confidently "read" the book by themselves.
Read yourself. Whether it's a cookbook or the online news, you can show your child by example how important reading is!
If your child asks how the sun sets or gets a new pet, there's no better way to find the information than in a book!
Have fun! If your child gets restless it may be time to stop for the evening.
Don't' hesitate to stop reading a book you and your child aren't enjoying. There are many books to choose from so why not put it down and find something you like better!
If your child wants to draw or do some other quiet activity while you read, let them. Children have different ways of listening.
Click here for a list Teachers' Top 100 Book for Children
Click here for a list of Kids' Top 100 Books
Click here for the New York Times Best Sellers List