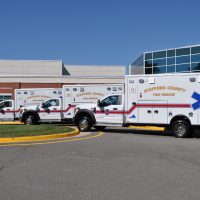 (Stafford)- From Stafford Fire and Rescue:
Stafford County Fire and Rescue placed three new 2017 Horton ambulances in service this week. The new units have been assigned to Falmouth Station 1, Stafford Station 2, and Potomac Hills Station 10 as advanced life support units. "We have a history of success with Horton ambulances and we are excited to rotate these three units into our fleet." said Chief Mark Lockhart.
Each of the three units is equipped with a new stretcher and lift system, designed to ease patient loading and unloading into the unit and reduce the possibility of injury to first responders. "The Stryker Power-LOAD system enhances safety by supporting the stretcher during the loading and unloading process. This also reduces the strain on the backs and legs of our staff which helps prevent repetitive lifting injuries." Chief Lockhart explained. In addition to the three new units being equipped with the system, four current units are being retro-fitted with the same system.
Lockhart said the current units are being rotated to other stations to continue their service life. Under a proposed fleet rotation system, vehicles in the Fire and Rescue fleet will rotate based on established criteria to ensure maximum service life and prevent excessive mileage in a short period of time.