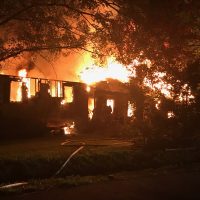 (Stafford)- An early morning fire destroyed a Stafford home on Cornwallis Drive in south Stafford. Units sent to the home just after 1:30 this morning. Nobody was home.
The initial caller indicated the entire roof was on fire and spreading quickly. First arriving units found a single family residence with fire throughout the structure. The Fire Marshals Office is investigating the fire and the cause has not been determined yet.
Stations/Units responding to the incident: Falmouth, Berea, Stafford, Mountain View, White Oak, Garrisonville, Brooke, Hartwood, City of Fredericksburg, Operations Assistant Chief, Operations Deputy Chief, and Operations Battalion Chief. Units were assisted by the Stafford County Sheriff's Office, Dominion Energy, and Columbia Gas.