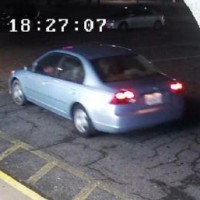 (Stafford)- The Stafford Sheriff's Office is investigating two armed commercial robberies over the weekend that may involve the same suspects.
Friday night at 10., Ricky's Chicken II at 3619 Jefferson Davis Highway was robbed at gunpoint by two masked men. A slim-built white male accompanied by a larger-framed black male with a handgun entered the establishment and demanded money from the register. An undisclosed amount of money was stolen.
The second Stafford robbery occurred Sunday night at 6:30 at the Latin Market at 367 Warrenton Road. A store employee advised that a black male pointed a silver handgun at him while the white male took an undisclosed amount of cash from the register.
In each incident, the suspects appeared to flee the scene on foot. A K-9 track was established in both robberies but fell short as the suspects may have gotten into a vehicle parked close to each scene.
In both incidents, the white male was described as approximately 6' tall with a slim build. He was accompanied by a heavier-set black male. Multiple similar robberies have occurred since January 19, 2017 in Northern Virginia. Anyone with ANY information is asked to contact the Stafford County Sheriff's Office at 540-658-4400.